Message to Love – The Isle of Wight Festival (1970)
Track List:
CD 1
1 – All Right Now – Free
2 – My Sunday Feeling – Jethro Tull
3 – Suzanne – Leonard Cohen
4 – Foy Lady – Jimi Hendrix
5 – Voodoo Chile (Slight Return) – Jimi Hendrix
6 – Can T Keep From Cryin – Ten Years After
7 – Me And Babby Mcgee
8 – Big Yellow Taxi – Joni Mitchell
9 – Woodstock – Joni Mitchell
10 – Blue Rondo A La Turk – Emerson, Lake & Palmer
11 – When The Music´s Over (Live) The Doors
CD 2
1. Young Man Blues (Live) – The Who
2. Naked Eye (Live) – The Who
3. There´ll Always Be An England (Live) - Tiny Tim
4. Sinner Boy (Live) – Taste
5. Let It Be (Live) – Joan Baez
6. Nights in White Satin (Notte Di Luce) (Live) – Moody Blues
7. Catch The Wind (Live) – Donovan
8. Weaver´s Answer (Live) – Family
9. Red Eye Express (Live) – John Sebastian
10. Call It Anything (Live) – Miles Davis
11. Amazing Grace (Live) – Great Awakening
12. Desolation Row (Live) – Bob Dylan
The Who - Live at the Isle of Wight Festival 1970
CD1:
1. Heaven and Hell
2. I Can't Explain
3. Young Man Blues
4. I Don't Even Know Myself
5. Water
6. Overture
7. It's a Boy
8. 1921
9. Amazing Journey
10. Sparks
11. Eyesight to the Blind (The Hawker)
12. Christmas
CD2:
1. The Acid Queen
2. Pinball Wizard
3. Do You Think It's Allright
4. Fiddle About
5. Tommy Can You Hear Me?
6. There's a Doctor
7. Go to the Mirror
8. Smash the Mirror
9. Miracle Cure
10. I'm Free
11. Tommy's Holiday Camp
12. We're Not Gonna Take It
13. Summertime Blues
14. Shakin' All Over
15. Substitute
16. My Generation
17. Naked Eye
18. Magic Bus
Jimi Hendrix - Blue Wild Angel: Live At The Isle Of Wight (2002)
Set List:
CD1
01. God Save The Queen
02. Sgt. Pepper's Lonely Hearts Club Band
03. Spanish Castle Magic
04. All Along The Watchtower
05. Machine Gun
06. Lover Man
07. Freedom
08. Red House
09. Dolly Dagger
CD2
01. Midnight Lightning
02. Foxey Lady
03. Message To Love
04. Hey Baby (New Rising Sun)
05. Ezy Ryder
06. Hey Joe
07. Purple Haze
08. Voodoo Child (Slight Return)
09. In From The Storm
Taste - Live At The Isle Of Wight 1970 - (1992)
Set List:
01. What's Going On
02. Sugar Mama
03. Morning Sun
04. Sinner Boy
05. I Feel So Good
06. Catfish
Free - Isle Of Wight 1970
Set List:
01 Ride on a Pony
02 Woman
03 The Stealer
04 Be my Friend
05 Mr Big
06 Fire and Water
07 I'm a Mover
08 The Hunter
09 All Right Now
10 Crossroads
Jethro Tull - Nothing Is Easy (2005)- Live at the Isle of Wight 1970
Set List:
1) My Sunday Feeling
2) My God
3) With You There To Help Me
4) To Cry You A Song
5) Bourée
6) Dharma For 1
7) Nothing Is Easy
8) Medley: We Used To Know / For A Thousand Mothers
The Doors - Palace of Exile (1970) - Bootleg Complete Version Remaster
Set List:
01) Introducing
02) Back Door Man
03) Break On Through
04) When The Music's Over
05) Tuning
06) Ship Of Fools
07) Roadhouse Blues
08) Crowd Requests
09) Light My Fire
10) Crowd wants more
11) The End
12) Outro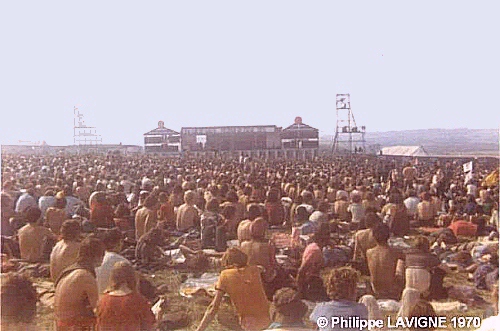 Como disse antes toda as sextas estaremos trazendo para o blog albums ao vivo sejam oficiais ou bootlegs de qualidade soundboard e nesse post estão incluídas as duas categorias.
No mês passado fez 40 anos da primeira edição do festival da Ilha de Wight, considerado a resposta inglesa ao Woodstock, não é tão famoso na mídia quanto seu primo americano mas foi importantíssimo evento da onda Flower Power que assolava o mundo naquela década, uma verdadeira ode a paz e amor, trocando em míudos muita putaria, maconha, LSD e Rock and Roll de jovens sustentados pelos pais burgueses e capitalistas que tanto criticavam, hahahaha, me perdeom os entusiastas do movimento mas a história era exatamente essa.
Movimentos hippies a parte o fato inconteste é que o feztival da ilha de Wight foi um dos maiores eventos culturais do século XX ao lado do seu primo mais famoso Woodstock. A magia dos festivais sempre foi algo contagiante que na minha opinião apagou-se em 1985 após a edição do primeiro Rock in Rio, nunca mais se viu um festival de porte que ficará na lembrança do público.
Nesse post vocês poderão conferir uma pequena parcela do que os hippies (que depois se transformaram em burgueses capitalistas, hehe) viram e ouviram naquela pequena ilha inglesa com performances de tirar o fôlego de Hendrix, The Doors, Free entre outros com destaque mais do que especial para a fantástica apresentação do Jethro Tull onde executam pela primeira vez o clássico "
My God
". Aliás pela foto acima existia uma grande dificuldade de ver alguma coisa, hehe.
Esse post foi um pedido do meu camarara Roberto Rocker que lembrou dos quarenta anos do festival, fato esquecido inclusive pela organização do evento que se repete de tempos em tempos até os dias de hoje mas, como disse antes, sem a magia de outrora. Fica então registrado a homenagem do Hard & Heavy mesmo que tardia. Um ótimo feriadão a quem pode e ótimo fim de semana a quem não pode, rs. Divirtam-se.
Message to Love – The Isle of Wight Festival (1970)
http://www.multiupload.com/W6PBUBPSGZ
The Who - Live at the Isle of Wight Festival 1970
http://www.mediafire.com/download.php?wmyjzzddwyn
http://www.mediafire.com/download.php?yygl1ndyyo3
Arte do album
http://www.multiupload.com/NJY9KTX3G0
Jimi Hendrix - Blue Wild Angel: Live At The Isle Of Wight (2002)
http://www.multiupload.com/E4S7WKVBTS
Taste - Live At The Isle Of Wight 1970 - (1992)
http://www.multiupload.com/WUSB8FPIZ0
Free - Isle Of Wight 1970
http://www.multiupload.com/7JOZCBF6WA
Jethro Tull - Nothing Is Easy (2005)- Live at the Isle of Wight 1970
http://www.multiupload.com/2FIBVZQ678
The Doors - Palace of Exile (1970) - Bootleg Complete Version Remaster
http://www.multiupload.com/KO1QFT3EHL